This client is from one of the south-east Asian countries.
The client sent private message to our sales on Facebook, this is her message: "I have seen some WPC decking that break into 2 pieces, severe twist or shrink in their project. ( at per photo attached ). how do you handle these kind of problems ? is it because our weather too hot compare to china and need special handling? your technical advise on these is appreciated."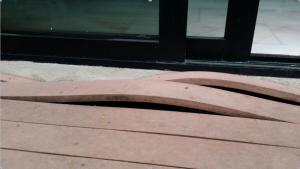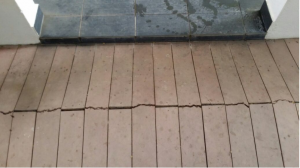 The client told us she was exploring possibility of WPC Decking as a new product to market for her Dealers, but was afraid of the quality.
So at first we gave her some common knowledge: Wpc decking is composited of 55% Poplar, 35% HDPE and 10% Additive. As we all know, the strength of wpc decking is related with the HDPE, more HDPE (to some extent), better strength. The guarantee of our decking is 20 years, the temperature it can bear is -40°to 60°. According to the historical records of the Malaysian Meteorological Agency, the hottest day in the history of Malaysia occurred on April 9, 1998, at  the "big furnace" Perlis, when the temperature reached 40.1 ° C. So we can assure that our product quality can bear the hot weather in south-east Asia. And about solution for the humidity, if debris such as pollen and dirt is allowed to remain on the deck surface , mold can feed on the bio film. Using a hose and warm soapy water with a soft bristle brush is recommend to remove the mold.
We talked for about two months and sent samples twice. After a long-time comparison of the quality and price, she thinks our WPC deck and certificates are the most reliable. We agreed on a sales contract finally.